55khz DIY ultrasonic soldering iron equipment for tinning on glass
Product Detail
FAQ
Product Tags
55khz DIY ultrasonic soldering iron equipment for tinning on glass
Parameter:

Model No.

HC-SI60

Ultrasonic Frequency

60Khz

Maximum Output

100 Watt

Temperature Range

150 ~ 400 °C

Power Supply

220V / 50-60 Hz

Ultrasonic Generator

Size

250(W) x 310(L) x 135(H) mm

Weight

5 Kg

Feature

Ultrasonic Amplitude Adjustable

Iron Handle Length & Diameter

190mm / Ø20

Avail Soldering Matrial

ITO Glass, AL, Mo, Cu etc.,
Ultrasonic Soldering is available in manual soldering and robotic soldering systems and is designed to apply high-frequency vibrational energy to a molten filler metal to solder parts without flux. Ultrasonic soldering also creates strong attachments through mechanical and chemical bonds. The vibrational energy forces the liquid solder into tiny crevices and pores in the substrates which helps to seal the parts and greatly increase the surface area to which the solder can bond. Chemical bonding uses a special solder which usually has trace amounts of aluminum, beryllium, indium, silicon, silver, titanium, zinc and rare earth elements. These have a strong affinity with oxygen and tend to form oxides that chemically bind to glass, ceramics and metals. This solder is available from Fancort in leaded or lead free composition.
Application:

Small scale production.

For use in laboratory conditions, while preparing data before mass production and for inspection purposes.

Soldering electrodes for display goods.

Soldering electrodes for solar cells.

Soldering electrodes on highly conductive

ceramic substrates.Bonding electronic parts.

Temperature can be set within 200°C 500°C by 10°C unit
Introduction:
This is a soldering technique in which the iron is subjected to ultrasonic vibrations which cavitate the surface of the materials to be soldered and remove any oxides which would impede the adhesion of the solder. In this way normally unsolderable materials such as stainless steel, aluminium, ceramic, or glass can be soldered without the need for flux or other specialist chemicals.
This iron takes the element and tip from a conventional mains-powered soldering iron and mounts it on the transducer from an ultrasonic cleaner. The transducer must be given an appropriate load which in the case of the cleaner is furnished by a water bath, or it will overheat and burn out.soldering iron element, so to prevent transducer meltdown he keeps the element powered continuously but the transducer on a momentary-action switch to ensure it only runs for the short time he's soldering.There is a temperature damping between the tool head and the transducer, and the high temperature of the tool head will not be transmitted to the transducer, so the service life of the device can be guaranteed. At present, the highest temperature of the equipment can withstand 400 degrees of continuous work, so it can only be soldered. The melting point of metallic tin is relatively low. We are also working to develop more materials for welding.
No need of flux when soldering to the glass, ceramic, or metal (the end of iron tip makes ultrasonic vibration, and removes any contaminants or oxide layers on the surfaces)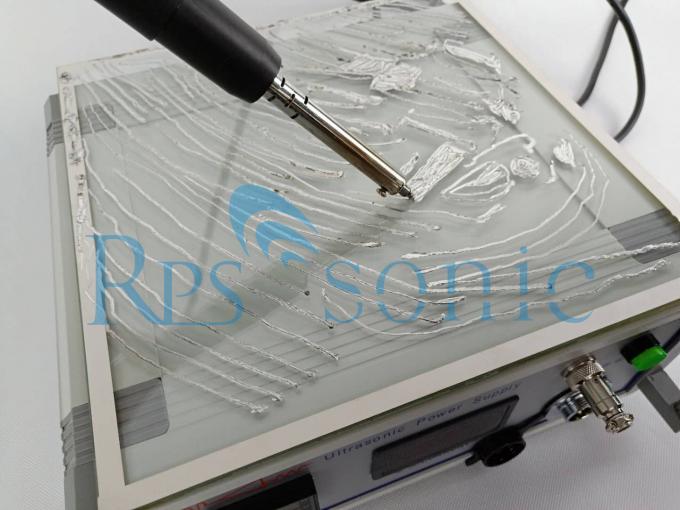 It can solder to the glass, ceramic, or metal that cannot soldering

Light weight and good portability

Various derivatives are available

According to the customer's order, the end of the tip in the handle can produce

It is for electrode part, solar battery parts, and electrode of superconductivity ceramic parts
---
Previous:
Hot-selling Ultrasonic Plastic Welding Machine - 20Khz Ultrasonic cutting machine for Ribbons cutting & label cutting – Powersonic
---
Write your message here and send it to us