20Khz 1000w Ultrasonic laboratory sonicator with Sound Enclosure for extracting
Product Detail
FAQ
Product Tags
20Khz Ultrasonic laboratory sonicator with soundproof box
Patameter
| | |
| --- | --- |
| Frequency | 20Khz |
| Frequency adjustment | Auto-tracking type |
| Max. power output6 | 1000W |
| Power output | Infinitive adjustment |
| Power supply | AC220V-240V 50/60Hz |
| Amplitude | 20-100% |
| Process capacity | 5L in max |
| Horn size | 13-25mm |
Description
Ultrasonic homogenizer for use in a laboratory for the purposes of mixing, emulsifying, homogenizing, disrupting cells, and reducing particle size in a sample.
Digital display, 99 hours total working time, variable output for pulsation, temperature indicator to prevent overheating, easy to use programming for optimal efficiency, automatic amplitude control, sound abating chamber to reduce cavitation noise, duty ratio of 0-100% depending upon needs.
Sonication can be used for the production of nanoparticles, such as nanoemulsions,nanocrystals, liposomes and wax emulsions, as well as for wastewater purification, degassing, extraction of seaweed polysaccharides and plant oil, extraction of anthocyanins and antioxidants, production of biofuels, crude oil desulphurization, cell disruption, polymer and epoxy processing, adhesive thinning, and many other processes. It is applied in pharmaceutical, cosmetic, water, food, ink, paint, coating, wood treatment, metalworking, nanocomposite, pesticide, fuel, wood product and many other industries.
Sonication can be used to speed dissolution, by breaking intermolecular interactions. It is especially useful when it is not possible to stir the sample, as with NMR tubes. It may also be used to provide the energy for certain chemical reactions to proceed. Sonication can be used to remove dissolved gases from liquids (degassing) by sonicating the liquid while it is under a vacuum. This is an alternative to the freeze-pump-thaw and sparging methods.
In biological applications, sonication may be sufficient to disrupt or deactivate a biological material. For example, sonication is often used to disrupt cell membranes and release cellular contents. This process is called sonoporation. Small unilamellar vesicles (SUVs) can be made by sonication of a dispersion of large multilamellar vesicles (LMVs). Sonication is also used to fragment molecules of DNA, in which the DNA subjected to brief periods of sonication is sheared into smaller fragments.
Sonication is commonly used in nanotechnology for evenly dispersing nanoparticles in liquids. Additionally, it is used to break up aggregates of micron-sized colloidal particles.
Sonication is used in food industry as well. Main applications are for dispersion to save expensive emulgators (mayonnaise) or to speed up filtration processes (vegetable oil etc.). Experiments with sonication for artificial ageing of liquors and other alcoholic beverages were conducted.
Soil samples are often subjected to ultrasound in order to break up soil aggregates; this allows the study of the different constituents of soil aggregates (especially soil organic matter) without subjecting them to harsh chemical treatment.
Sonication is also used to extract microfossils from rock.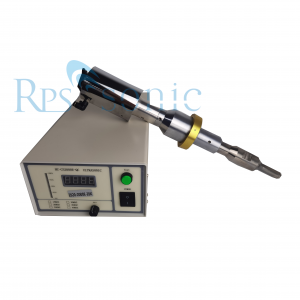 ---
Previous:
Quots for Food Vegetable and Meat Water Purifier Ultrasonic Sterilization Vegetable Washers
---
Q1.What kind material of the horn?
A. Titanium alloy, we also customized aluminum hom for customer before.
Q2.What's the time of delivery?
A. For Conventional hom, 3 days, for customized hom 7 work days.
Q3.Does ultrasonic extraction also require the addition of a chemical catalyst?
A. No . but some time need Mechanical stiring.
Q4.Can the device work continously?
A. Yes ,it can work 24hours continously.
Q5.What's the Processing capacity of one set ultrasonic extraction equipment?
A. Different hor different Processing capacity, for 2000W Nine section whip horm can dealing 2L~10Lmin.
Q6.What's the warranty of your sonicator equipment?
A. All equipment one year warranty.
Write your message here and send it to us