35Khz 800w handheld Ultrasonic spot welding machine with spot welding gun
Product Detail
FAQ
Product Tags
35Khz 800w handheld Ultrasonic spot welding machine with spot welding gun
Parameter
| | |
| --- | --- |
| Item | Parameter |
| Frequency | 35Khz |
| Power | 800W |
| Ceramice chips | 4chips |
| Connect screw | M8 |
| Probe weight | 0.9kg |
| Total weight | 5kg |
Description
The ultrasonic spot welding machine power supply has the advantages of compact structure, simple and elegant appearance, easy operation, flexible movement, and easy maintenance. The circuit of the whole machine is independently original by our company, and has the characteristics of wide frequency tracking range, high frequency tracking accuracy, large instantaneous output of ultrasonic energy, strong force, fast response, and high control accuracy.
The power supply of the spot welding machine converts the input AC220V, power frequency AC distillation and filtering to 300V DC, which is chopped into a specific high-frequency AC. The high-frequency transformer amplifies the model to a high-voltage AC signal of several thousand volts to drive the transducer. Make it vibrate at its own resonant frequency. The control module cuts off the ultrasonic output when the power supply of the spot welding gun fails, thus providing a safe and reliable guarantee for the ultrasonic equipment generator and the whole set of ultrasonic welding equipment.
The ultrasonic hand welder transmits ultrasonic energy to the welding area through the upper weldment. Due to the large acoustic resistance of the welding area, that is, the interface between the two welding, local high temperature will be generated. In addition, due to the poor thermal conductivity of the plastic, it cannot be distributed in time, and it gathers in the welding area, causing the contact surface of the two plastics to melt rapidly. When the ultrasonic wave stops working, let the pressure continue for a few seconds to make it solidify and form, thus forming a strong molecular chain to achieve the purpose of welding, and the welding strength can be close to the strength of the raw materials.
Features
1. Portable light design, easy to carry, does not occupy space, and is easy to operate.
2. By ultrasound, the beads can be fixed on the material, which is immediately suitable for drilling holes on clothing/shoes/accessories. Drilling points for work efficiency are more than twice that of conventional operations. And it can complete 40 grains/minute, which is especially suitable for the use of pattern making.
3. The NTK voltage transducer has strong output stability; the hand transducer can be exchanged with the vacuum suction nozzle, the operation is extremely flexible, and it is widely used in riveting, spot welding, embossing, hammer pressing and other processes.
4. Beautiful appearance, microcomputer control, electronic tuning, frequency LCD display, power continuously adjustable, simple operation, short welding time. Even if heated, it can make the thermal influence minimal, accurate, intuitive, convenient, stable, reliable and safe to use.
5. The color of the welding points is the same, the welding surface is firm, the strength is high, and it is environmentally friendly. After welding, the surface is clean and beautiful.
Application
1. Plastic toys, water guns and aquatic animal games, children's dolls, SuZhi gifts, etc.
2. Electronic products: tape cassettes and core wheels, disc shells, mobile phone panels and rectifier transformers, switch sockets, remote controls, electronic mosquito swatters, fake hats, etc.
3. Household appliances, electric clocks, electric chuusu hair dryers, steam iron water tanks, gas electric cookers, including computers, etc.
4. Stationery goods: writing boxes, aquatic animals, folders, stroke rulers and casings, pen holders, cosmetic case casings, toothpaste tube end caps, cosmetic lenses, lighter temperature, fragrance and bottle-sealed containers.
5. Cars, motorcycles, batteries, front corner lights, rear instruments, mirrors, etc.
6. Sports industry applications: table tennis, table tennis shooting, badminton rackets, golf clubs, table tennis rackets, drum machine running, skipping rope handle treadmills, treadmill accessories, fragrance, gymnastics mats, boxing gloves, boxing sandbags, sanda Equipment maintenance, path shiyippi, X display racks and other sports equipment are widely used in ultrasonic plastic welding machines such as plastic spot welding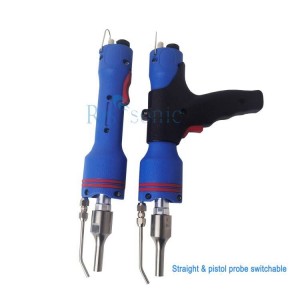 ---
Next:
Professional Design China Desktop Ultrasonic Metal Spot Welding Machine/Ultrasonic Spot Welder for Lithium Ion Battery
---
Q1.What kind material of the horn?
A. Titanium alloy, we also customized aluminum hom for customer before.
Q2.What's the time of delivery?
A. For Conventional hom, 3 days, for customized hom 7 work days.
Q3.Does ultrasonic extraction also require the addition of a chemical catalyst?
A. No . but some time need Mechanical stiring.
Q4.Can the device work continously?
A. Yes ,it can work 24hours continously.
Q5.What's the Processing capacity of one set ultrasonic extraction equipment?
A. Different hor different Processing capacity, for 2000W Nine section whip horm can dealing 2L~10Lmin.
Q6.What's the warranty of your sonicator equipment?
A. All equipment one year warranty.
Write your message here and send it to us