60Khz Ultrasonic soldering iron equipment for soldering copper
Product Detail
FAQ
Product Tags
60Khz Ultrasonic soldering iron equipment for soldering copper

Parameter
Model No.
RPS-SI60
Ultrasonic Frequency
60Khz
Maximum Output
100 Watt
Temperature Range
150 ~ 400 °C
Power Supply
220V / 50-60 Hz
Ultrasonic Generator
Size
250(W) x 310(L) x 135(H) mm
Weight
5 Kg
Feature
Ultrasonic Amplitude Adjustable
Iron Handle Length & Diameter
190mm / Ø20
Avail Soldering Matrial
ITO Glass, AL, Mo, Cu etc.,
Description
Ultrasonic soldering is a flux-free soldering method. Compared with traditional soldering methods, it is considered more environmentally friendly. Use vibration and cavitation to remove the surface oxide layer from the welding surface instead of chemical agents.
Ultrasonic soldering technology is different from ultrasonic plastic welding, which uses vibration to generate heat to melt the connected parts. The principle of ultrasonic soldering is basically the same as that of ultrasonic cleaning. The vibration energy causes cavitation in the water bath or cleaning solvent. The surface of the part immersed in the liquid medium is cleaned by the strong erosion effect of cavitation bubbles.
In the ultrasonic soldering process, heat from a separate energy source melts the solder before applying vibration energy. Then, the molten solder is used as an acoustic transmission medium for ultrasonic vibration. When high-frequency vibration energy is applied to the molten solder, it causes controlled acoustic cavitation at the tip of the soldering tool to destroy and disperse surface oxides. The cavitation microbubbles burst, clean all surfaces, wet the liquid solder and bond the pure metal.
Vibration also ensures that there are no voids in the solder joints, and the vibration energy forces the liquid solder to penetrate into the gaps and pores of the substrate. It helps seal parts and increase the surface area to which solder can bond. Ultrasonic vibration can also squeeze bubbles out of liquid solder, so this method makes solder joints suitable for applications in high vacuum where sealing is required.
Ultrasonic soldering allows the connection of different materials and can be used for materials that are difficult to solder by conventional methods. Since no flux is required, users can save the time and cost of cleaning flux residues, while reducing corrosion and improving the durability of solder joints.
The ultrasonic soldering method can be conveniently used for manual welding with the help of a handheld ultrasonic electric soldering iron equipment, or it can be grafted to an ultrasonic welding machine and assembly line for use.
Application
Glass jewelry manufacturing
Optical glasses coating/metallization
Making electrodes on glass and ceramic plates
Welding of heating contacts on the rear window of a car
Welding superconductors, components, ceramic accessories
Vacuum sealing of glass tube, bonding of hardware accessories
Sealing of optical glass fiber (metal ferrule bonding)
The electrode is bonded to the front/back contact of the solar cell (crystalline, thin film)
Bonding leads (dots) in metallic glass, liquid crystal glass, crystal oscillator, hybrid integrated circuit
Basic welding method

When coating glass, ceramic or metal oxide with Cerasolzer solder, sufficient contact between the solder and the substrate must be maintained, and small bubbles existing in the boundary area between the substrate surface and the soft solder must be eliminated by friction. Ultrasonic vibration eliminates the air layer in a very short time, thereby forming a continuous solder joint without bubbles in the boundary area. If the substrate has high heat absorption, an auxiliary heat source, such as a hot plate, should be used to maintain proper welding conditions.
The most appropriate way is to apply Cerasolzer on a transparent glass slide, the reverse side of which is the correctly established boundary zone, which looks like the reflective surface of a mirror.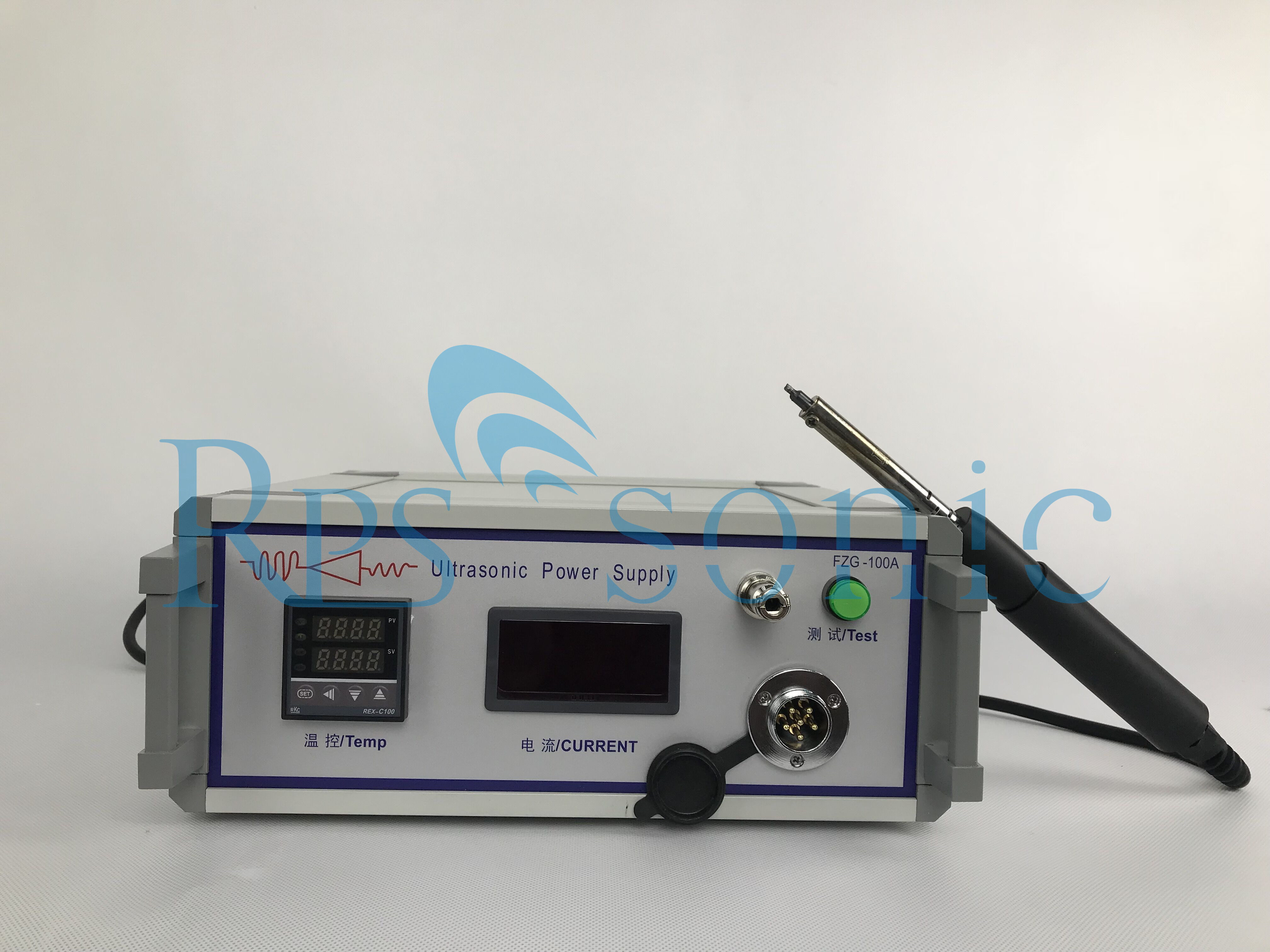 ---
---
Q1.What kind material of the horn?
A. Titanium alloy, we also customized aluminum hom for customer before.
Q2.What's the time of delivery?
A. For Conventional hom, 3 days, for customized hom 7 work days.
Q3.Does ultrasonic extraction also require the addition of a chemical catalyst?
A. No . but some time need Mechanical stiring.
Q4.Can the device work continously?
A. Yes ,it can work 24hours continously.
Q5.What's the Processing capacity of one set ultrasonic extraction equipment?
A. Different hor different Processing capacity, for 2000W Nine section whip horm can dealing 2L~10Lmin.
Q6.What's the warranty of your sonicator equipment?
A. All equipment one year warranty.
Write your message here and send it to us