20Khz 1000w ultrasonic food cutting machine with titanium blade
Product Detail
FAQ
Product Tags
20Khz 1000w ultrasonic food cutting machine with titanium blade
Parameter
| | |
| --- | --- |
| Machine | Ultrasonic cake Cutter |
| Frequency(KHz) | 20Khz |
| Power | 1000 W |
| Cutting Blade / Horn | Titanium |
| Voltage(V) | 220V |
| The width of blade | depend on your requirement |
| Cutting thickness | 86mm in max |
| Horn amplitude | 10-40μm |
| Equipment weight | 8KG |
Introduction
The trendsetting cutting technology
In many industries intelligent ultrasonic cutting established itself as the preferred method for clean and fast separation without any waste. Scoring or cutting of food items like dough, cheese and meat, or separating of materials like fleece, carpet, foam, rubber, light-weight materials, foil, or textiles without fraying or unraveling, the Industry 4.0-ready ultrasonic technology is the right tool for you. This process provides another advantage: The combination of cutting and welding seals the edges in the same process step.
Broad range of applications
Process safety, reproducible results, and time savings gained by the speed of the process are only some of the advantages you can gain by employing ultrasonic technology. Depending on your individual requirements we offer vertical or horizontal cutting solutions which can be realized as continuous cut or in a cycle mode.
Cutting systems by RPS-SONIC Ultrasonic are specifically tuned to the individual characteristics and consistency of the material, e.g. cheese, lunch meat or dough. Even warm, fresh, sticky or frozen food can be separated, scored or cut in smaller pieces with ultrasound. Your hugh advantage: The need to stop at the blade can be almost completely eliminated with the use of ultrasound which keeps the edges especially clean.
Durable, low in maintenance and flexible
Compared to mechanical blades, cutting Sonotrodes stay sharp longer and require much less maintenance. In conjunction with our flange converters, a tool change with cutting Sonotrodes is a breeze. This is how RPS-SONIC keeps your production going.
Ultrasonic food processing involves a vibrating knife (guillotine) producing a nearly frictionless surface that minimizes buildup on the blade surface. The ultrasonic blades cleanly cuts sticky products and inclusions such as nuts, raisins & morsels without displacement. Ultrasonic cutting is used by many of the world's largest and most prestigious food producers.
ADVANTAGES
Precise separation with almost no loss of material
Cutting of frozen goods
No fraying on edges
High degree of process safety
Reproducible results
Cutting cycles or continuous cutting possible
Little tool wear
Simultaneous cutting and sealing possible
Our Sonotrodes are always designed for a specific customer or application using FEM (finite elements method). Usually made from Titanium, we manufacture the correctly shaped blade like arrow heads, sickles, punch or X-Sonotrodes, for each application. For ultrasonic punch applications, we also provide the matching die or counter piece to each punch Sonotrode.
Pictures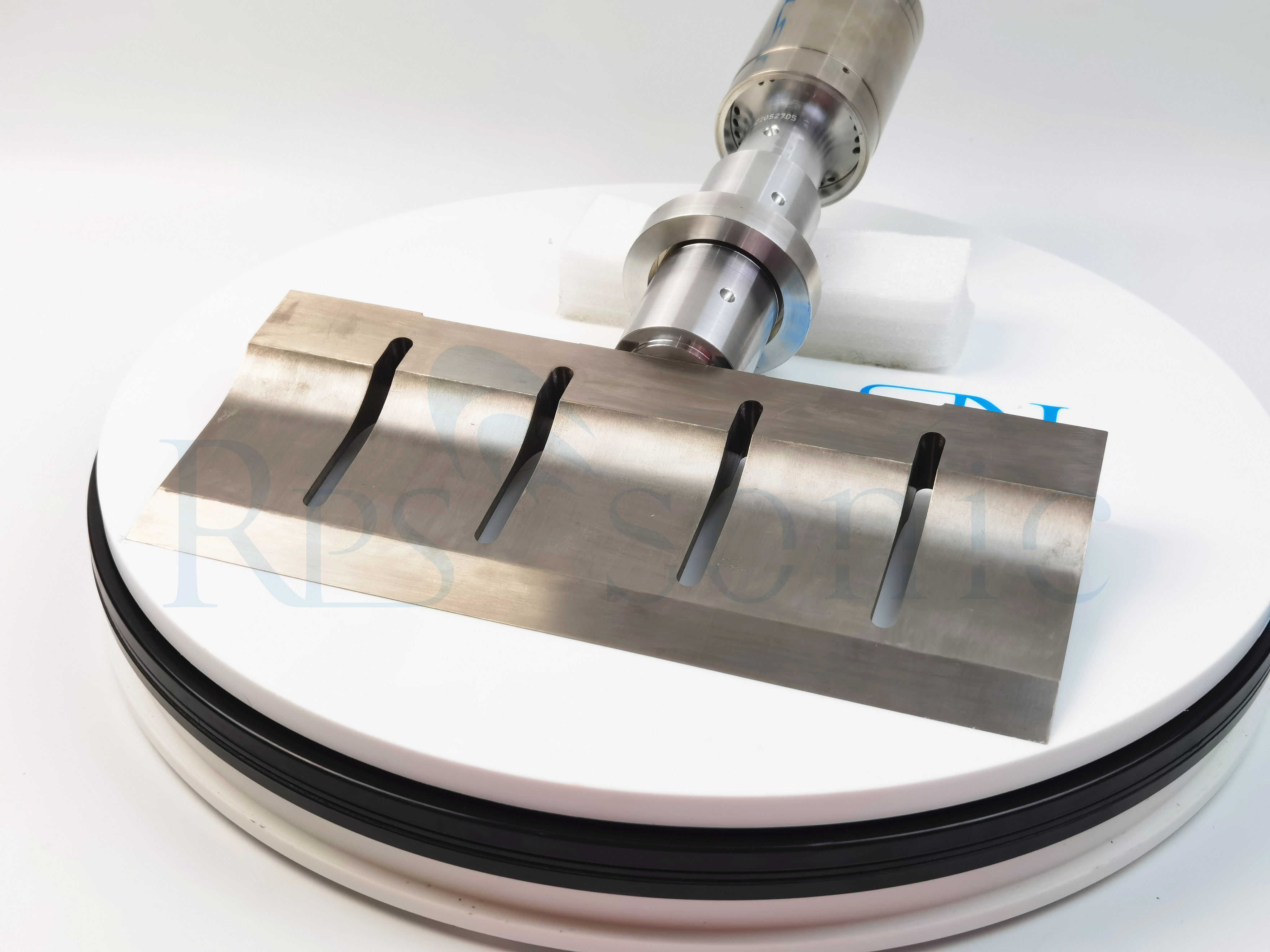 ---
Previous:
Fast delivery China 40kHz Compact Ultrasonic Hand Cutter with Blade Replacement Nonwoven and Textiles Cutting
---
Q1.What kind material of the horn?
A. Titanium alloy, we also customized aluminum hom for customer before.
Q2.What's the time of delivery?
A. For Conventional hom, 3 days, for customized hom 7 work days.
Q3.Does ultrasonic extraction also require the addition of a chemical catalyst?
A. No . but some time need Mechanical stiring.
Q4.Can the device work continously?
A. Yes ,it can work 24hours continously.
Q5.What's the Processing capacity of one set ultrasonic extraction equipment?
A. Different hor different Processing capacity, for 2000W Nine section whip horm can dealing 2L~10Lmin.
Q6.What's the warranty of your sonicator equipment?
A. All equipment one year warranty.
Write your message here and send it to us