20Khz automatic ultrasonic cutting machine for cake bread candy cutting
Product Detail
FAQ
Product Tags
20Khz automatic ultrasonic cutting machine for cake bread candy cutting
Parameter
| | |
| --- | --- |
| Machine | Ultrasonic cake Cutter |
| Frequency(KHz) | 20Khz |
| Power | 1000 W*2 |
| Cutting Blade / Horn | Titanium alloy |
| Voltage(V) | 220V |
| The width of blade | depend on your requirement |
| Cutting thickness | 86mm in max |
| Horn amplitude | 10-40μm |
| Equipment weight | 250KG |
Introduction
ultrasonic food cutting system is composed of an automatic frequency tracking ultrasonic generator, a high-power ultrasonic transducer, and a titanium alloy cutting knife. It has a good performance in food cutting. The whole machine is simple and convenient to install, real-time frequency tracking, adjustable amplitude, abnormal protection, etc.; it can be controlled by PLC or RS485 communication.
It is suitable for cutting most food products, and can easily realize precise cutting of products such as bread, cakes, cheese, frozen foods, etc. It is also suitable for cream multi-layer cake, sandwich mousse cake, date cake, steamed sandwich cake, Napoleon, Swiss roll , Brownies, tiramisu, cheese, ham sandwiches and other baked goods. It is suitable for the production of large-scale food automatic cutting.
Intelligent automatic frequency tracking ultrasonic generator, real-time frequency tracking, power, current, frequency abnormal protection;20khz 2000W high-power transducer, low impedance, high conversion efficiency, strong amplitude;Titanium alloy horn, low impedance, high transmission efficiency ;Titanium alloy cutting knife, precision processing, strong amplitude output, long service life;Cutting height of 70-130mm, adapt to different cutting needs;The cutting surface is neatly organized, without deformation, and no debris, cutting multi-layer products, can maintain the level There is no color mixing; Cut food: frozen products and products containing butter can be adapted.
Ultrasonic cutting is suitable for the food products which include different hardness foods such as ultrasonic cutting of Cheese, ultrasonic cutting of Cake and bread, ultrasonic cutting of Pizza, ultrasonic cutting of Käse, ultrasonic cutting of candy, ultrasonic cutting of nuts, ultrasonic cutting of Nougat, ultrasonic sandwich cutting, ultrasonic cutting of Frozen food and ultrasonic cutting of dried fruits.
Features
1.Perfect clean cut surface
2.Compact and scalable machines as per your needs
3.Wash down, and easy to maintain
4.Extremly regular cheese wheels or cheese blocks cutting and slicing
5.All shapes, wheels or logs, without changing tools
6.3D-Vission, fixed weight, ACCURATE TO THE GRAM (less than 0.05 Oz !!!), for all shapes, X Rays as option for emmental,
7.No sticking to the blade, so high speed cutting is feasible, as well as high accuracy (because there are no deformations of the cheese during cutting),
8.Possibility to automatically clean the blade, between each product, to avoid any cross contamination through the cutting,
9.wide range of machines from 40 cuts per minute to 120 cuts per minutes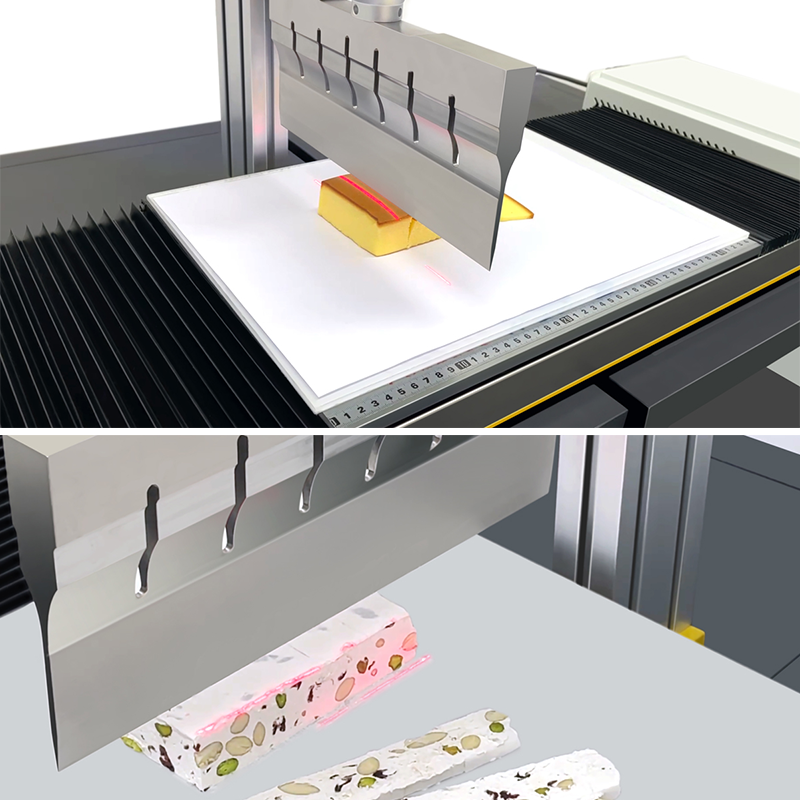 ---
Next:
Supply ODM Competitive Price 20kHz 2000W Digital Ultrasonic Welding System with Ultrasonic Horn
---
Q1.What kind material of the horn?
A. Titanium alloy, we also customized aluminum hom for customer before.
Q2.What's the time of delivery?
A. For Conventional hom, 3 days, for customized hom 7 work days.
Q3.Does ultrasonic extraction also require the addition of a chemical catalyst?
A. No . but some time need Mechanical stiring.
Q4.Can the device work continously?
A. Yes ,it can work 24hours continously.
Q5.What's the Processing capacity of one set ultrasonic extraction equipment?
A. Different hor different Processing capacity, for 2000W Nine section whip horm can dealing 2L~10Lmin.
Q6.What's the warranty of your sonicator equipment?
A. All equipment one year warranty.
Write your message here and send it to us