Laboratory 28Khz Ultrasonic Sonicator homogenizers with Titanium Horn
Product Detail
FAQ
Product Tags
Laboratory 28Khz Ultrasonic Sonicator homogenizers  with Titanium Horn
| | |
| --- | --- |
| Model | SONO-L28-500 |
| Frequency | 28±0.5 KHz |
| Power | 500 W |
| Voltage | 220/110V |
| Temperature | 300 ºC |
| Pressure | 35 MPa |
| Max capacity | 1L/Min |
| Tip horn Material | Titanium Alloy |
Description
A homogenizer is a piece of laboratory or industrial equipment used for the homogenization of various types of material, such as tissue, plant, food, soil, and many others.
What is an ultrasonic homogenizer used for?
Ultrasonic homogenizers are commonly used for processing small samples that are in suspension and don't require any pre-grinding or cutting. They can be used for cell lysis, emulsion preparation, for mixing and dissolving purposes, and to accelerate chemical reactions.
Ultrasonic homogenizers, or sonicators are used in cell lysis and particle size reduction applications. This equipment uses pulsed, high frequency sound waves to disrupt particles through a phenomenon called cavitation. Cavitation occurs when a rapid pressure change causes "liquid-free zones" or cavities in a liquid. As these cavities collapse, shock waves are generated throughout the liquid, which causes the cells or large particles to rupture.
Homogenization, process of reducing a substance, such as the fat globules in milk, to extremely small particles and distributing it uniformly throughout a fluid, such as milk. When milk is properly homogenized, the cream will not rise to the top. The process involves forcing the milk through small openings under high pressure, thus breaking up the fat globules.
Cream and other food products, such as peanut butter, may be homogenized to produce a stable emulsion—one in which fats or oils will not separate from other elements. A similar process is used in the manufacture of some cosmetics and pharmaceutical products.
Application
Materials Chemistry: Dispersion of nanomaterials such as carbon nanotubes and graphene; production of biodiesel; homogeneous soil and rock samples; disintegration, emulsification, homogenization and crushing of non-ferrous metals, rare earth and other particulate matter.
Life sciences: lysis, fragmentation, leaching and extraction of bacteria, viruses, spores and other cell structures; extraction and pruning of DNA and protein in animal cells. In addition, it can be used for dispersion and extraction of Chinese herbal medicine, and aging treatment of raw wine.
Ultrasonic sonicator can also be used on industrial level in addition to laboratory use.
After customers using laboratory equipment for testing, they will try industrial-grade ultrasonic homogenizer equipment for mass production.
The parameters of industrial-grade ultrasonic homogenizer are as follows:
Frequency
20Khz
20Khz
20Khz
20Khz
20Khz
20Khz
Power
500 W
1000 W
1000 W
2000W
3000W
3000 W
Voltage
220V
220V
220V
220V
220V
220V
Pressure
Normal
Normal
Normal
35 MPa
35 MPa
35 MPa
Intensity of sound
>10 W/cm²
>10 W/cm²
>10 W/cm²
>40 W/cm²
>60 W/cm²
>60 W/cm²
Processing capacity
(L/H)
0.5-2.0
1.0-4.0
5.0
20.0
50.0
100.0
Material of probe
Titanium Alloy
Titanium Alloy
Titanium Alloy
Titanium Alloy
Titanium Alloy
Titanium Alloy
Generator
Digital type
Digital type
Digital type
Digital type
Digital type
Digital type
Kindly check the product catalog of our product: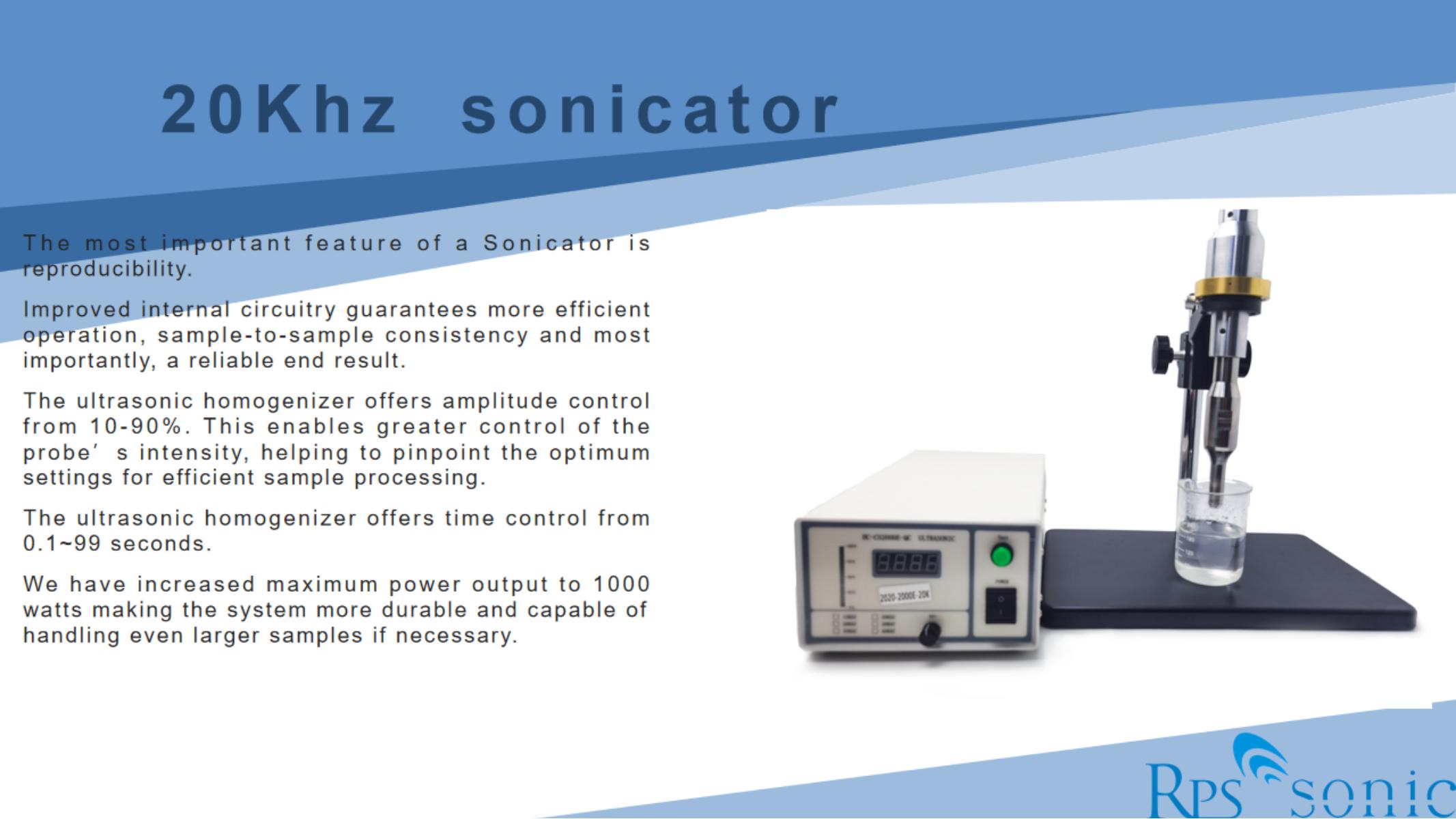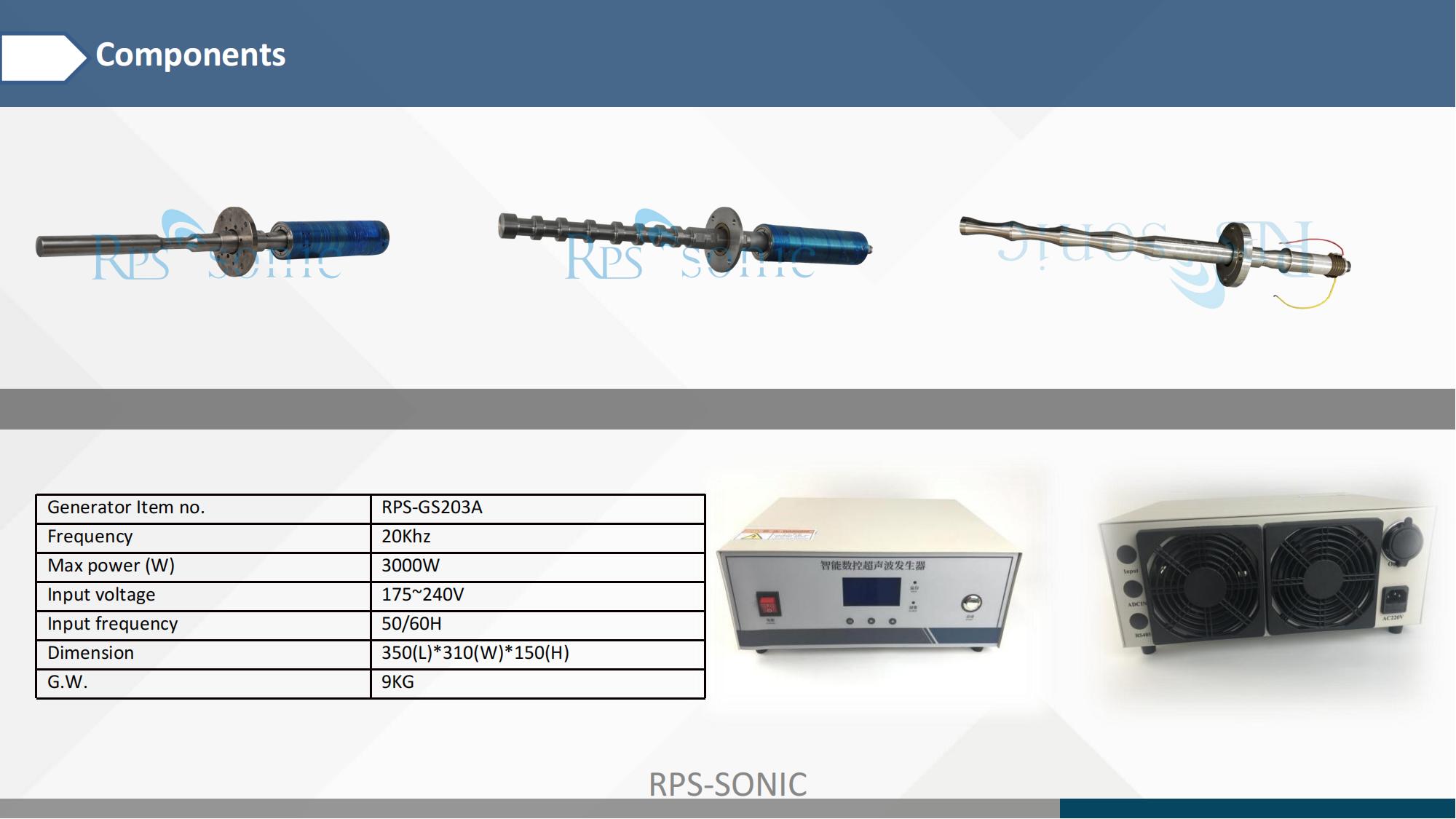 ---
Previous:
Professional Design China Desktop Ultrasonic Metal Spot Welding Machine/Ultrasonic Spot Welder for Lithium Ion Battery
Next:
OEM Customized China High Quality Ultrasonic Impedance Analyzer with Fixture for Testing Ultrasonic Components
---
Q1.What kind material of the horn?
A. Titanium alloy, we also customized aluminum hom for customer before.
Q2.What's the time of delivery?
A. For Conventional hom, 3 days, for customized hom 7 work days.
Q3.Does ultrasonic extraction also require the addition of a chemical catalyst?
A. No . but some time need Mechanical stiring.
Q4.Can the device work continously?
A. Yes ,it can work 24hours continously.
Q5.What's the Processing capacity of one set ultrasonic extraction equipment?
A. Different hor different Processing capacity, for 2000W Nine section whip horm can dealing 2L~10Lmin.
Q6.What's the warranty of your sonicator equipment?
A. All equipment one year warranty.
Write your message here and send it to us