Automatic Welding Ultrasonic Power Supply Lightweight Compact Structure
Product Detail
FAQ
Product Tags
Automatic Welding Ultrasonic Power Supply Lightweight Compact Structure
Description
Frequency:
15Khz~60khz
Power:
2500W In Max
Excitement:
Separate Excitation
Generator:
Ultrasonic Digital Generator
Screen:
LCD Display
Frequency Range:
+-1000hz
High Light:

ultrasonic power generator

,


high power ultrasonic generator
compact light ultrasonic welding generator 35 khz for Auto welding
Parameter:
| | |
| --- | --- |
| Item | Parameter |
| Power | 3000W In max |
| Frequency range | ±1khz |
| Operating temperature | ≤65℃ |
| Frequency | 20Khz~60khz |
| Amplitude adjust | 10%~90% |
| Voltage | 110V/220V |
| Circuit | Digital,separate excitation |
Principle of ultrasonic welding generator:An ultrasonic welding generator isfor generating and supplying ultrasonic energy to an ultrasonic transducer. The purpose is to convert our city power (220V or 110V, 50Hz or 60Hz) into a high-frequency AC signal that can be matched with an ultrasonic transducer. This signal can be a sinusoidal signal or a pulse signal.The perfect ultrasonic generator has a feedback link, which mainly provides the following two aspects of feedback signals.Output Power signal:When the input voltage of the ultrasonic generator changes, the output power of the generator also changes. Will make the mechanical vibration of the ultrasonic transducer unstable, resulting in poor working results. Therefore, the output power needs to be stabilized, and the power amplifier is adjusted accordingly through the power feedback signal, so that the power amplification is stable.Frequency tracking signal:When the transducer works at the resonance frequency, it has the highest efficiency and the most stable operation.The resonant frequency of the transducer will change due to assembly and work aging. If the changed frequency is only drifting and not much changed, the frequency tracking signal can control the signal generator, so that the frequency of the signal generator can track the resonant frequency of the transducer within a certain range, so that the generator works in the best state.
Why RPS-SONIC Generator:
1. Each power will be tested by Specifytransducer .
2. All generatorwith one year warranty.
3. Specialized in high power ultrasonicfor more than ten years
4. Every generatorwith 24hours old testing before shipment.
5. Good packing, no packing problem during the 10 years exporting business.
6. Every customer will get purchase records and there are certain rewards after accumulation
Advantages:
Operates over a frequency range of 15 – 60 kHz (frequency is user selectable through the display for any ultrasonic machine).

Choice of load leveling or power leveling mode for increased precision and the greatest repeatability of atomization

Display resolution of .01 Watts

Graphic user interface with intuitive wheel encoder enables full on-screen control of all functions.

Uses advanced phase-locked-loop control technology to automatically lock onto a nozzle's optimal operating frequency.

Contains inputs and outputs for remote alarm monitoring, external trigger signal, and remote power/load leveling control.

±4% accuracy allows for increased repeatability.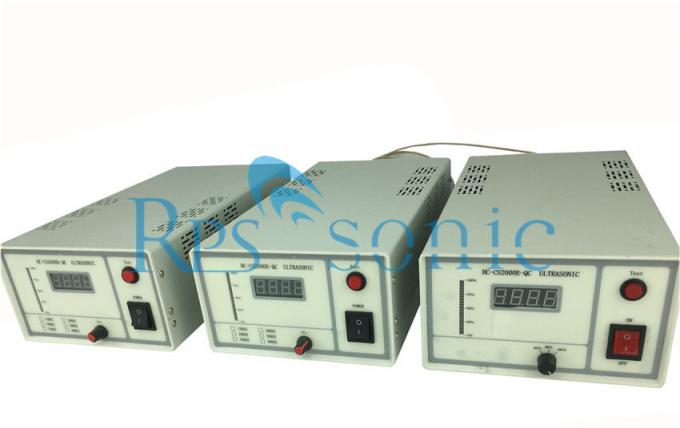 ---
---
Write your message here and send it to us