High frequency Ultrasonic spraying coating equipment for Nano film spraying
Product Detail
FAQ
Product Tags
High frequency Ultrasonic  spraying coating equipment for Nano film spraying
Paramater
| | |
| --- | --- |
| Item | Parameter |
| Frequency | 50Khz |
| Power | 10~100w |
| FLOW RATE (ml/min) | 0~20ml/min |
| Spray width | 2~200mm |
| Solution utilization | above 98% |
Description
Ultrasonic nozzles operate by converting high frequency sound waves into mechanical energy that is transferred into a liquid, creating standing waves. As the liquid exits the atomizing surface of the nozzle, it is broken into a fine mist of uniform micron sized droplets.
Unlike pressure nozzles, ultrasonic nozzles do not force liquids through a small orifice using high pressure in order to produce a spray. Liquid is fed through the center of a nozzle with a relatively large orifice, without pressure, and is atomized due to ultrasonic vibrations in the nozzle. A RPS-SONIC engineered proprietary precision ultrasonic generator provides the mechanical energy required to create the vibrations in the nozzle. The power required to operate ultrasonic nozzles generally varies between 1 and 8 Watts.
Nozzles are fabricated from a very high-strength titanium alloy and other proprietary metals, making them exceptionally resistant to chemical attack and providing superior acoustical properties. The electrically active elements are contained within a sealed housing that protects the nozzle components from external contamination.
The liquid feed tube runs the entire length of the nozzle. The nozzle's design ensures that liquid only comes into contact with titanium within the nozzle.
The low velocity mist created by the ultrasonic nozzle is typically accompanied by additional low velocity air shaping devices to entrain the spray and direct it toward a substrate. This allows precise control of the spray into fine lines, conical patterns, or wide flat fan shapes. To learn more about air shaping, visit Air Shaping Systems.
ExactaCoat with ultrasonic nozzle blowoutSpray patterns range from 0.015" (0.4mm) wide lines to virtually unlimited widths using multiple nozzles mounted in tandem.
RPS-SONIC ultrasonic nozzles are integrated into full coating systems, incorporating liquid delivery, exhaust, motion control, and custom options.
Industries and applications:

Disintegration of liquids
Thin-film coating for electronics
High performance coatings (e.g. containing functionalized nano particles)
Anti-fog coating
Adding moisture to a gas stream
Encapsulation of active agents in pharmaceuticals
Spray drying of powders and granules, e.g. nano-particles
Food industry: milk & whey powder, instant coffee
Particle engineering
spray drying of food powders, e.g. heat-sensitive products
In the production of semiconductors, fuel cells, medical equipment Chemistry: e.g. gas-liquid reaction, bondings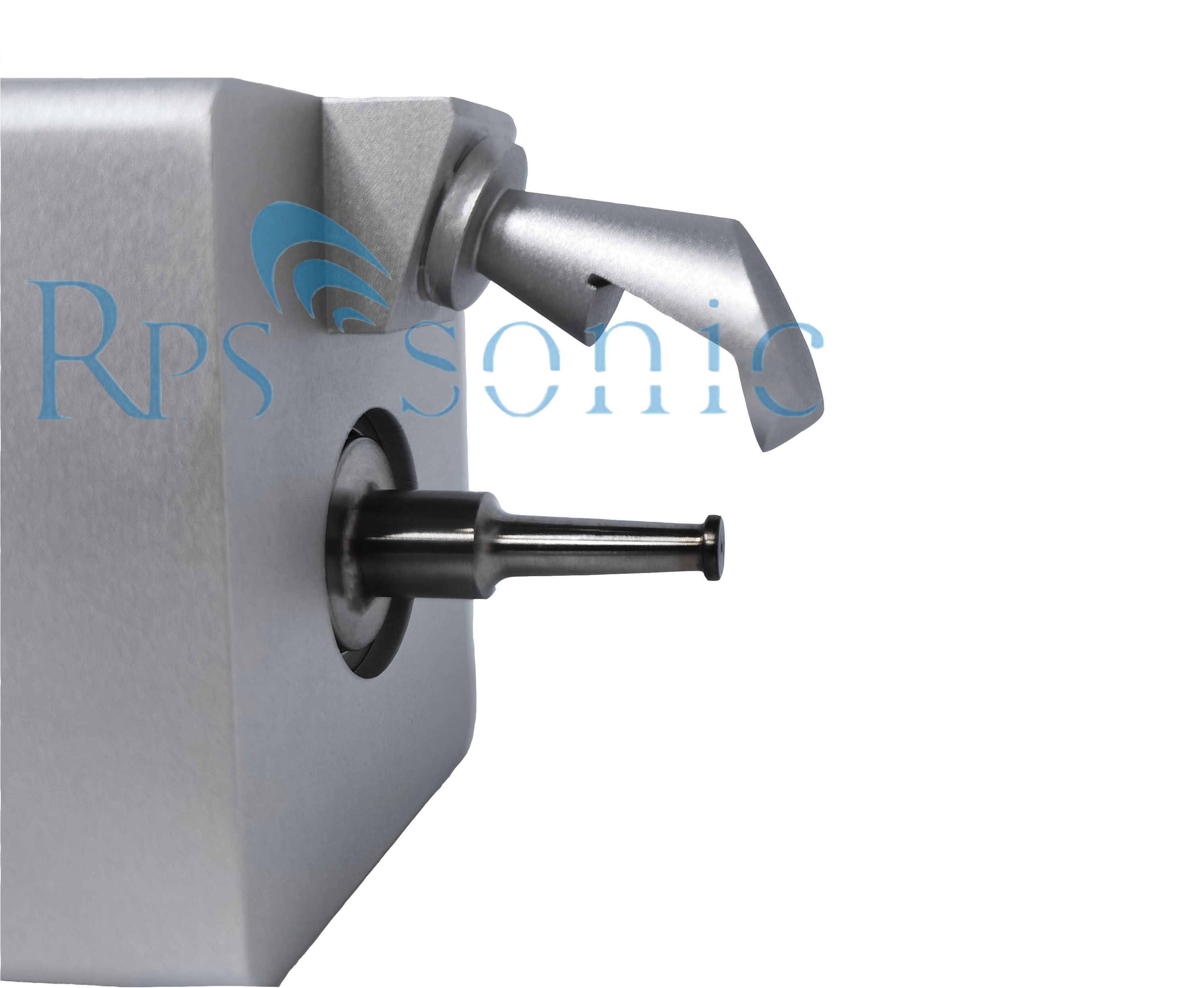 ---
---
Q1.What kind material of the horn?
A. Titanium alloy, we also customized aluminum hom for customer before.
Q2.What's the time of delivery?
A. For Conventional hom, 3 days, for customized hom 7 work days.
Q3.Does ultrasonic extraction also require the addition of a chemical catalyst?
A. No . but some time need Mechanical stiring.
Q4.Can the device work continously?
A. Yes ,it can work 24hours continously.
Q5.What's the Processing capacity of one set ultrasonic extraction equipment?
A. Different hor different Processing capacity, for 2000W Nine section whip horm can dealing 2L~10Lmin.
Q6.What's the warranty of your sonicator equipment?
A. All equipment one year warranty.
Write your message here and send it to us