15khz high power ultrasonic welding machine 5000W Automatic high precision
Product Detail
FAQ
Product Tags
15khz high power ultrasonic welding machine 5000W Automatic high precision
C.Parameter:
Frequency

15Khz

30KHz

Generator

3000W/5000W

2000W

Welding model

Time model energy model, power model, depth model

Distance micro-adjustment

20-100mm Precision:0.01 mm

The height of the frame in max

280mm

Input Voltage

220V/110V
A. The principle of ultrasonic welding
The ultrasonic generator generates the signal frequency required by the ultrasonic transducer, and then uses the thermoplasticity of the plastic to generate heat at a very high speed between the molecules by using high-frequency friction between the working surfaces. When the heat is sufficient to melt, the ultrasonic wave is stopped. Vibration, at this time the workpiece joint is solidified by melting, complete the processing procedure! The traditional ultrasonic generator is manually frequency-modulated, and HZ-2000 digital ultrasonic generator realizes automatic frequency tracking, real-time power display, and friendly communication of human-machine interface!
Ultrasonic plastic welding is the joining or reforming of thermoplastics through the use of heat generated from high-frequency mechanical motion. It is accomplished by converting high-frequency electrical energy into high-frequency mechanical motion. That mechanical motion, along with applied force, creates frictional heat at the plastic components' mating surfaces (joint area) so the plastic material melts and forms a molecular bond between the parts.
B. Function
1. Frequency auto-chasing: intelligent control system, frequency auto tracking.
2. amplitude adjust Infinitely : amplitude adjust Infinitely , amplitude increase and decrease by 5%;
3. intelligent protection: frequency offset protection, output overloading protection, mold damage protection;
4. electrical components: all pneumatic components and main electronic components of the machine are imported from Germany and Japan;
5. fuselage structure: the frame of the machine adopt special steel structure and made by precision cast aluminum CNC machining processing , the frame is more precise and more stable
Advantages of Ultrasonic weldingThere are many advantages to using ultrasonic welding.
It is a fast, clean, efficient, and repeatable process that produces strong, integral bonds while consuming very little energy. No solvents, adhesives, mechanical fasteners or external heat are required. Finished welding-material are strong and clean. Difficult materials can be welded ultrasonically. Part weldingare cycled quickly because the energy transferred to the joint and released as heat occurs very rapidly and is confined to the immediate joint area. The rapid dissipation of heat makes this process considerably faster than other methods of welding.
An ultrasonic welding system's tooling and/or application can be quickly changed offering flexibility and versatility not found in many other welding processes. In addition, the relatively low-cost investment in ultrasonic equipment vs. its high reliability, long life, and consistent, repeatable performance, makes ultrasonic welding the preferred method of welding. Ultrasonic welding is widely accepted and is used in the automotive, medical, electrical and electronic, communications, appliance, consumer products, toys, textile and packaging industries. It is an economical process that can significantly increase production and lower welding costs.
Ultrasonic Welders can be easily integrated in automation manufacturing environment and 100 % all electric control of the latest equipment provides unprecedented repeatability, reliability and accuracy to the process.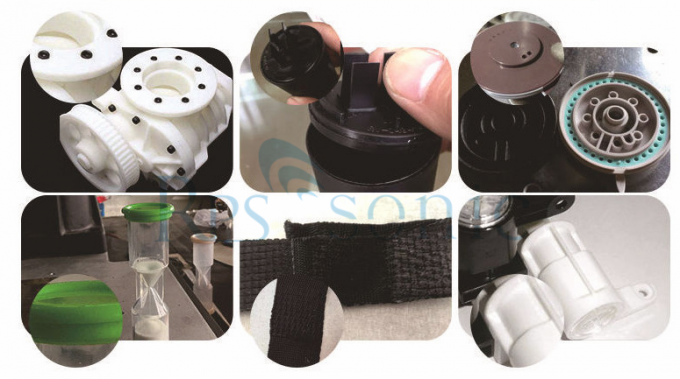 ---
Previous:
Hot-selling Ultrasonic Plastic Welding Machine - 20Khz Ultrasonic cutting machine for Ribbons cutting & label cutting – Powersonic
---
Write your message here and send it to us