Laboratory digital ultrasonic sonicator with temperature controller for ultrasonic extracting/mixing
Product Detail
FAQ
Product Tags
Laboratory digital ultrasonic sonicator with temperature controller for ultrasonic extracting/mixing

Parameter
| | |
| --- | --- |
| Frequency | 28Khz |
| Frequency adjustment | Auto-tracking type |
| Max. power output6 | 00W |
| Power output | Infinitive adjustment |
| Power supply | AC220V-240V 50/60Hz |
| Amplitude | 0.1-99.9% |
| Temperature control | -20~100℃ |
| Horn size | 2-8mm |
Sonication is the act of applying sound energy via an ultrasonic bath or an ultrasonic probe to agitate particles in a sample. Ultrasonicators are found in academic, clinical and forensic laboratories that need to disintegrate cells, bacteria, spores or tissue.
Difference Between Probe Sonicator and Bath Sonicator
The key difference between probe sonicator and bath sonicator is that in probe sonication, the probe is in direct contact with the sample, while bath sonicator isolates the sample from the energy source.
Sonication is a cell disruption method which utilizes sound energy or high-frequency sound waves to break cells. It is a physical cell disruption technique which is highly effective in disrupting bacteria, yeasts, fungi, algae and mammalian cells. When high-frequency sound waves are applied, it generates a lot of heat. Hence, it is necessary to carry out sonication under cool conditions, especially immersing the sample in an ice bath.
Sonication is best suited for samples having a volume below 100 mL. Compared to other methods, cell lysis by sonication is fast and easy to manage. Sonicator is the equipment used in sonication. Probe sonicator and bath sonicator are two types of equipment used in sonication. Probe or bath sonicator provides sound energy in the audible range.
What is Probe Sonicator?
Probe sonicator is a technique by which sound energy is administered into a sample with the purpose of breaking cells. A probe is inserted into the sample, so the probe is in the direct contact with the sample. Hence, the sample receives more concentrated energy.
Probe sonication is a type of direct sonication method. However, probe sonicator is not suitable for small volumes. Moreover, it can lead to sample cross-contamination and contamination by the erosion of the probe tip.
What is Bath Sonicator?
Bath sonication is an indirect sonication method in which a water bath is used. In bath sonication, ultrasonic energy is transmitted to a water bath and then into a vessel or multiple sample tubes. This method is most effective for very small samples.
Bath sonicator separates samples from the energy source. Therefore, bath sonication requires significantly more energy input to energize whole water bath, unlike probe sonication. Moreover, bath sonicator eliminates the need for a probe to come into contact with the sample. Hence, the sample cross-contamination and contamination by the erosion of the probe tip can be prevented by bath sonicator. In addition to the agitation of particles in a sample or cell breaking, bath sonication is useful when cleaning objects such as spectacles and jewellery.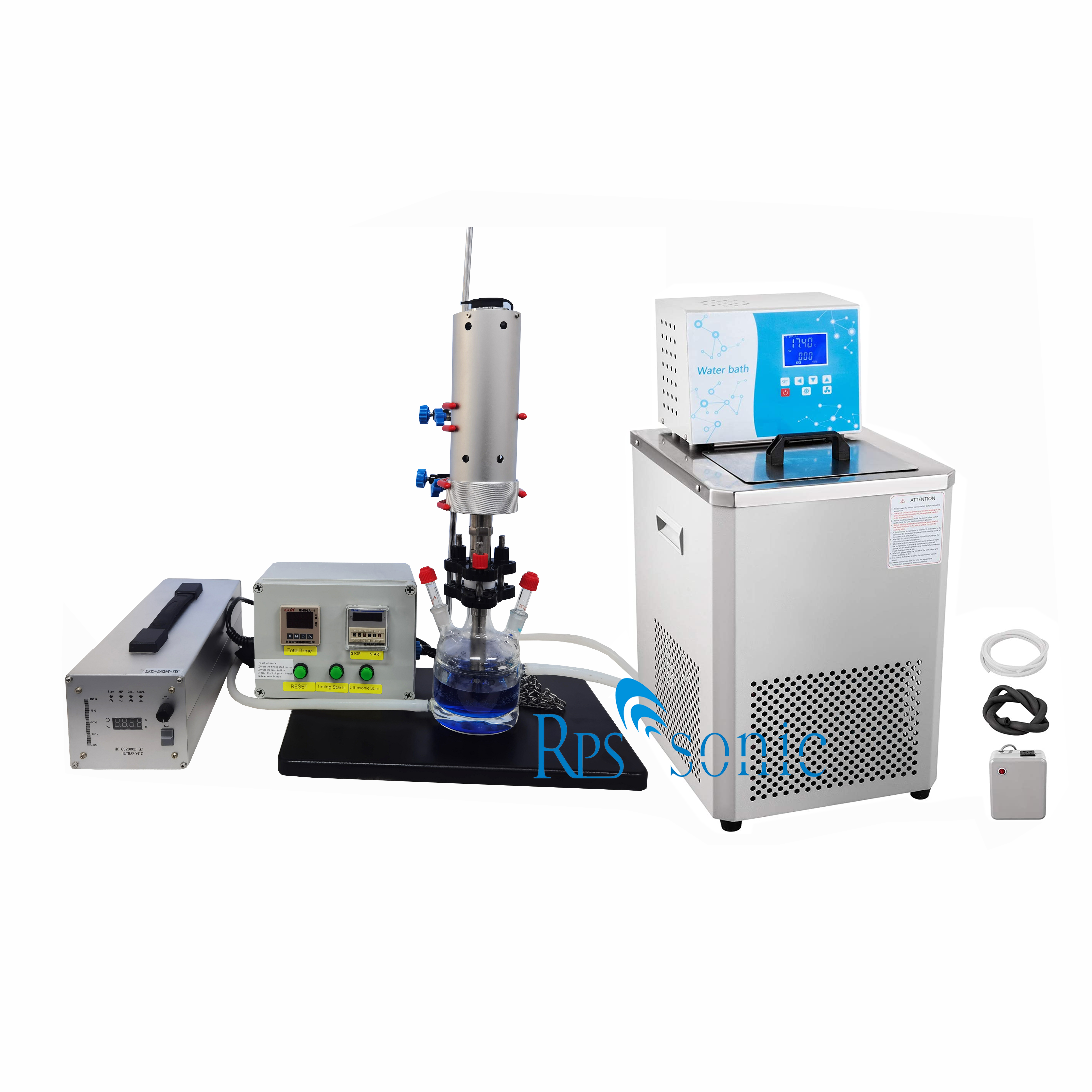 ---
Next:
OEM Manufacturer 18650 Lithium Battery Tab Welding Equipment Ultrasonic Best Battery Spot Welder
---
Q1.What kind material of the horn?
A. Titanium alloy, we also customized aluminum hom for customer before.
Q2.What's the time of delivery?
A. For Conventional hom, 3 days, for customized hom 7 work days.
Q3.Does ultrasonic extraction also require the addition of a chemical catalyst?
A. No . but some time need Mechanical stiring.
Q4.Can the device work continously?
A. Yes ,it can work 24hours continously.
Q5.What's the Processing capacity of one set ultrasonic extraction equipment?
A. Different hor different Processing capacity, for 2000W Nine section whip horm can dealing 2L~10Lmin.
Q6.What's the warranty of your sonicator equipment?
A. All equipment one year warranty.
Write your message here and send it to us