Plastic Rubber Ultrasonic Hand Cutter Steel Blade 5mm Cutting Thickness
Product Detail
FAQ
Product Tags
Plastic Rubber Ultrasonic Hand Cutter Steel Blade 5mm Cutting Thickness
Description
Frequency:
20khz
Blade Material:
Steel
Cutting Thickness:
5mm
Applcation:
Plastic Cutting
Power:
500W
Operate Type:
By Hand Or Robot
High Light:

ultrasonic cutting tool

,


ultrasonic food cutter
Plastic Ultrasonic Cutter Knife Fabric Rubber Ultrasonic Knife
Parameter
| | |
| --- | --- |
| Machine | Ultrasonic cutting |
| Frequency(KHz) | 20Khz |
| Power | 500 W |
| Cutting Blade / Horn | steel |
| Voltage(V) | 220V |
| Cutting thickness | 5mm |
| Horn amplitude | 30μm |
| Equipment weight | 6KG |
Introduction
The ultrasonic cutter is composed of a "transducer" that generates vibration and an "oscillator" that drives the transducer. A piezoelectric element is used for the transducer. When voltage is applied, the piezoelectric element displaces the transducer by a few micrometers. Periodically applying voltage generates vibration. Each object has its special frequency, by which the object is stable and easy to vibrate. By adding an external force that corresponds to that special frequency, a small force can obtain a large vibration. This phenomenon is called resonance. In the ultrasonic cutter, the piezoelectric element generates a force that resonates the whole body, from the transducer to the blade tip, generating a large vibration at the tip. The oscillator periodically generates voltage to resonate and drive the transducer. Using a component of the ultrasonic cutter called the horn to ring the cross-sectional area, from the piezoelectric element to the blade tip, can obtain a larger vibrationUltrasonic cutting also has a great advantage, that is, it can melt the cutting material while cutting. The cutting area is perfectly sealed to prevent loosening of the tissue of the material being cut (such as flashing of textile materials).So ultrasonic cutting is widly used in fabric, textile,Home textiles ,Non-woven,seat cushion, sound insulation cotton.
Advantages
1. Fast, economical, high sewing strength and strong tensile strength2. Independent cutting and sewing, with soft melting and trimming effect, no wire loss, no damage, no burrs.3. No need for auxiliary materials (such as staples, glue, paper clips, etc.). )4. No time-consuming warm-up and recovery required5, no pollution, no use of toxic adhesives and solvents, environmental protection and health6. There is no needle eye on the sewing edge, which can prevent the penetration of chemicals, pathogens and small harmful particles, which is safe and hygienic.
Application:
Ultrasonic cutting is common in the manufacture of textiles where melted and sealed edges free from fraying are required, or where a turned-over hem is not acceptable. Ultrasonic cutters are also good for thick fabrics or fabrics with an uneven weave or variation in thickness, where laser cutting often gives a poor edge finish. Ultrasonic cutting ensures a high level of accuracy in both simple and complex shapes and notches. It also enables a single-ply cutting process to be used straight from the roll or from fixed sheets of material, with either a conveyor or a static table.
The ultrasonic ply cutter operates in a similar manner to an oscillating knife. The blade oscillates up and down while the lateral movement is guided by a computer-controlled head. Ultrasonic cutting is performed in a similar way, however the action of the cutting tool is that of chopping rather than cutting.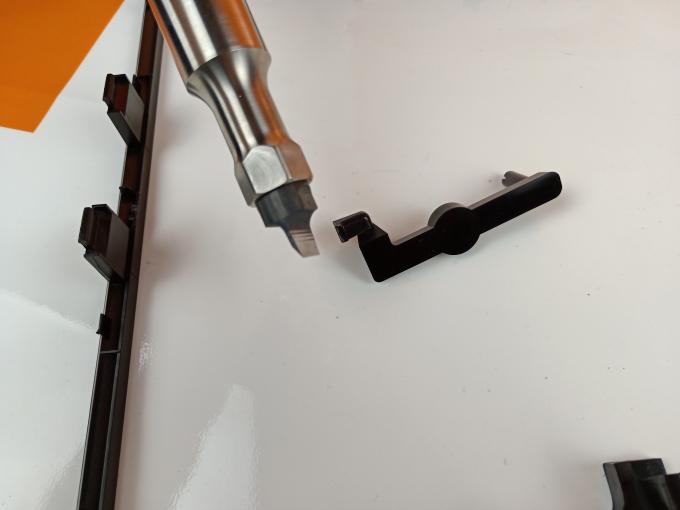 ---
---
Q1.What kind material of the horn?
A. Titanium alloy, we also customized aluminum hom for customer before.
Q2.What's the time of delivery?
A. For Conventional hom, 3 days, for customized hom 7 work days.
Q3.Does ultrasonic extraction also require the addition of a chemical catalyst?
A. No . but some time need Mechanical stiring.
Q4.Can the device work continously?
A. Yes ,it can work 24hours continously.
Q5.What's the Processing capacity of one set ultrasonic extraction equipment?
A. Different hor different Processing capacity, for 2000W Nine section whip horm can dealing 2L~10Lmin.
Q6.What's the warranty of your sonicator equipment?
A. All equipment one year warranty.
Write your message here and send it to us