Touch Screen High Sensitivity Ultrasonic impedance analyzer for testing piezoelectric converters
Product Detail
FAQ
Product Tags
Touch Screen High Sensitivity Ultrasonic impedance analyzer for testing piezoelectric converters
Parameter
| | |
| --- | --- |
| Item | PV520A |
| Frequency | 1Khz~500Khz/ 1Mhz /3Mhz /5Mhz Optional |
| Product Feature | portable,8inch screen,full touch screen |
| Dimension | L:24cm,W:19cm,H:10cm |
| Measurement index | All the parameters ,the graph |
| Measurement Accuracy | < 0.5% |
| Measuremet Speed | 5/S one pass (600scan point) adjustable |
| Frequency Accuracy | ±10ppm |
| Impedance Range | 1Ω~1MΩ |
| Frequency Step | 0.1Hz~any |
Description
RPS-SONIC Impedance Analyzer is a high-tech device dedicated to tuning, frequency analysis and testing of power ultrasonic transducers, horns (sonotrodes) and correlated devices. The Impedance Analyzer PV520A is for these elements as an oscilloscope is for the electronics.
With the RPS-SONIC Impedance Analyzer, the transducers and sonotrodes become just as measurable and adjustable as any other device.
The PV520A series of ultrasonic component analyzers (Impedance Analyzer) are jointly developed by the Department of Automation of Tsinghua University and the Institute of Acoustics of the Chinese Academy of Sciences. They are used as comprehensive solutions for the detection of piezoelectric ultrasonic devices and equipment.
PV520A is a new generation of ultrasonic component analyzer developed on the basis of PV70A-P (computer version) and PV70A-D (built-in display version), combining the advantages of the former two. Its characteristics are as follows:
1. The large screen and full-screen touch make PV520A have the operating experience of PV70A-P (computer version) without the cumbersome feeling of computer operation.
2. Relying on the new super powerful ARM processor data processing capability, the measurement accuracy of PV520A is much higher than that of PV70A-D (with display version), which can reach the level of PV70A-P (computer version).
3. The full-screen touch operation is more user-friendly, and there is no need for a large number of physical buttons of the PV70A-D (built-in display version), so the operation of the instrument becomes extremely simple, at the same time the product size is smaller, the weight is lighter, and the portability is better.
4. It can be connected to a computer for operation like PV70A-P, and the software is fully compatible, so users no longer need to be familiar with software operations.
Adcantages
Practicality and ease of use. No need for ultrasonic expertise.
Reduces ultrasonic equipment maintenance costs because it allows preventive maintenance
Allows the quality control of ultrasonic transducers reducing technical assistance
Makes fast and accurate manufacturing of transducer possible
Easy operation, Easy to connect to PC operation for record
Affordable cost: Now buy a Brand New One at Rental Price
Application
Piezoelectric ceramics, transducers, ultrasonic cleaning machines, ultrasonic plastic welding machine, underwater acoustic, magnetostrictive materials, ultrasonic grinder, ultrasonic atomization , reversing radar, ultrasonic ranging, phacoemulsification , ultrasonic motors, and all other devices used in piezoelectric and ultrasound.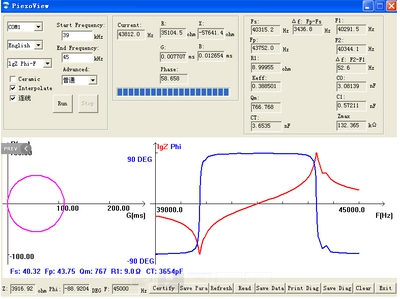 ---
Previous:
2019 wholesale price China The Customizable Fully Automatic Control Desktop Rubber Cutting Machine with ISO. Ce
---
Q1.What kind material of the horn?
A. Titanium alloy, we also customized aluminum hom for customer before.
Q2.What's the time of delivery?
A. For Conventional hom, 3 days, for customized hom 7 work days.
Q3.Does ultrasonic extraction also require the addition of a chemical catalyst?
A. No . but some time need Mechanical stiring.
Q4.Can the device work continously?
A. Yes ,it can work 24hours continously.
Q5.What's the Processing capacity of one set ultrasonic extraction equipment?
A. Different hor different Processing capacity, for 2000W Nine section whip horm can dealing 2L~10Lmin.
Q6.What's the warranty of your sonicator equipment?
A. All equipment one year warranty.
Write your message here and send it to us