20Khz 1000w ultrasonicator ultrasonic emulsification equipment with Sound-proof enclosure
Product Detail
FAQ
Product Tags
20Khz probe ultrasonicator ultrasonic emulsification equipment with Sound-proof enclosure
Parameter
| | |
| --- | --- |
| Frequency | 20Khz |
| Frequency adjustment | Auto-tracking type |
| Max. power output6 | 1000W |
| Power output | Infinitive adjustment |
| Power supply | AC220V-240V 50/60Hz |
| Amplitude | 0.1-99.9% |
| Process capacity | 5L in max |
| Horn size | 13-25mm |
Description
Sonochemistry is the application of ultrasound to chemical reactions and processes. The mechanism causing sonochemical effects in liquids is the phenomenon of acoustic cavitation. RPS-SONIC ultrasonic laboratory and industrial devices are used in a wide range of sonochemical processes. Ultrasonic cavitation intensifies and speeds up chemical reactions such as synthesis and catalysis.
RPS-SONIC ultrasonic laboratory devices are compact, easy-to-use and extremely versatile. They can be used for the processing of a variety of organic and inorganic materials in a wide range of volumes.
Typical applications of ultrasonic homogenizers include sample preparation, disintegrating and cell lysis, homogenizing, dispersing and disaggregation, particle size reduction and the acceleration of chemical reactions (sonochemistry). RPS-SONIC offers a wide range of ultrasonic homogenizers to be used for these applications in a wide range of volumes from approx. 50µL to 2000mL. The selection of the ultrasonic processor depends on the sample volume to be sonicated. The table below, lists all laboratory devices and the recommended volume respectively.
Sound Protection Boxes for Noise Reduction
When applied to liquids, ultrasound causes cavitation. The cavitational noise is in the human audible range. Sound protection boxes are available for the ultrasonic laboratory devices to reduce the noise emission to more convenient levels. This is recommended for typical laboratory environments. The sound protection boxes include a stand pole and an adjustable table (acrylic glass) to hold the sample.
Application
1.Nanoparticle Dispersion
High shear forces created by ultrasonic cavitation have the ability to break up particle agglomerates and result in smaller and more uniform particles sizes. The stable and homogenous suspensions produced by ultrasonics are widely used in many industries today. Probe sonication is highly effective for processing nanomaterials (carbon nanotubes, graphene, inks, metal oxides, etc.) and Sonicators have become the industry standard for:
Dispersing
Deagglomerating
Particle size reduction
Particle synthesis and precipitation
Surface functionalization
2.Chromatin/DNA Shearing
For individual samples the easiest method is to insert a small probe directly into a sample. At Qsonica, we call this direct probe sonication. Energy is transmitted from the probe directly into the sample and the entire volume is processed very quickly.
3.Cell Disruption/Proteomics
Since the 1970s, Sonicators have been used to lyse many types of cells: mammalian cell culture, yeast, algae, bacteria, and more. Even gram-positive bacteria with their tough cell walls can be readily lysed with the powerful ultrasonic energy of a Sonicator. The ultrasonic energy output of each Sonicator model is adjustable and sonication parameters can be optimized according to your process requirements. Amplitude (intensity) can be lowered in order to gently process fragile cells, prevent organelles from being damaged or decrease degradation of enzymes. Amplitude can also be increased to powerful levels to process difficult cell types.
4.Cannabis Applications
Cannabis extracts thc are hydrophobic water soluble molecules. in order to overcome the immiscibility of cannabinoids infuse edibles beverages creams and other infused products a proper method emulsification is needed. ultrasonic processors have been used pharmaceuticals industries for making stable emulsions over half century.
Through the powerful forces created by ultrasonic cavitation, Sonicators have the ability to achieve nanoparticle sizes which other emulsification technology cannot. With sufficient processing, particle sizes under 100 nm are often achievable (see particle size data). What this smaller particle size means for your cannabis infused products is:
more translucency / clearer, less cloudy appearance
increased bioavailability / better absorption
more accurate dosing / more uniform concentrations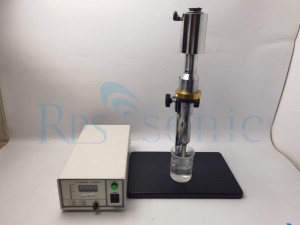 ---
---
Q1.What kind material of the horn?
A. Titanium alloy, we also customized aluminum hom for customer before.
Q2.What's the time of delivery?
A. For Conventional hom, 3 days, for customized hom 7 work days.
Q3.Does ultrasonic extraction also require the addition of a chemical catalyst?
A. No . but some time need Mechanical stiring.
Q4.Can the device work continously?
A. Yes ,it can work 24hours continously.
Q5.What's the Processing capacity of one set ultrasonic extraction equipment?
A. Different hor different Processing capacity, for 2000W Nine section whip horm can dealing 2L~10Lmin.
Q6.What's the warranty of your sonicator equipment?
A. All equipment one year warranty.
Write your message here and send it to us