Compact Light Generator Ultrasonic 20 Khz For Mask Machine
Product Detail
FAQ
Product Tags
Compact Light Generator Ultrasonic 20 Khz For Mask Machine
Description
Frequency:
15Khz~60khz
Power:
2000W In Max
Excitement:
Separate Excitation
Generator:
Ultrasonic Digital Generator
Screen:
LCD Display
Frequency Range:
+-1000hz
High Light:

mask machine generator ultrasonic

,


2000W power ultrasonic generator
compact light ultrasonic welding generator 20khz for Mask Machine
Generator is stat-of-the-art able operate any ultrasonic atomizer nozzle or probe including competitors from 20kHz to 600kHz and has virtually unlimited bandwidth under increased loads and frequency changes due to elevated temperatures. Power to the nozzle can be set in 1% increments or select our fine adjustment in 0.3% increments. Built inside the generator is a microprocessor and communication port with advanced electronics and unique software algorithms for effeciently driving the nozzle correctly under virtually all operating conditions. One feature is "Auto Atomization Power Adjustment" (AAPA) which can be turned on or off and is used to automatically adjust the power to the nozzle with changes in liquid flows without stalling. AAPA can be used with micro feed tubes or low flows with a high degree of control. Constant Power function freezes the power selected for the process and serves to help with coating processes increasing repeatability. All of the mentioned features are selectable from the menu and is displayed on the front panel screen. Several other functions are also available with our generator including power to the probe and bar graph. At the rear of the generator is a communication port, configurable enable/disable triggering, external power control, PLC interface and capabilities for customers who simply want to turn on/off the generator remotely with feedback or need to control all functions of the atomizer nozzle with a computer. One feature of our software tells the user if the power is too low for the liquid flow, disables power for any fault and provides this information to the user on the generator LCD display or GUI interface.
Parameter:
| | |
| --- | --- |
| Item | Parameter |
| Power | 3000W In max |
| Frequency range | ±1khz |
| Operating temperature | ≤65℃ |
| Frequency | 20Khz~60khz |
| Amplitude adjust | 10%~90% |
| Voltage | 110V/220V |
| Circuit | Digital,separate excitation |
Why RPS-SONIC Generator:
1. Each power will be tested by Specifytransducer .
2. All generatorwith one year warranty.
3. Specialized in high power ultrasonicfor more than ten years
4. Every generatorwith 24hours old testing before shipment.
5. Good packing, no packing problem during the 10 years exporting business.
6. Every customer will get purchase records and there are certain rewards after accumulation
Advantages:
safety protection
1. Comprehensive protection (overcurrent protection, overheating protection, overvoltage protection, anti-corrosion and dust protection, etc.),2. The high and low voltage circuits are completely separated, the operation safety is guaranteed, and the anti-drying ability is strong.Simpler operation and maintenance1. The LCD display window intuitively grasps the working status of the whole machine.2. The output power is adjustable, the cleaning time can be set arbitrarily, and the frequency can be adjusted to meet the welding needs of different products.3. According to customer requirements, we can design and manufacture generators with different frequencies, powers and functions. Can be connected to a remote control system and operate the process through the network.4. With time display, adjustable power display, adjustable frequency and other functions.5. No professional staff can maintain it by themselves, easy to operate and provide technical support for life.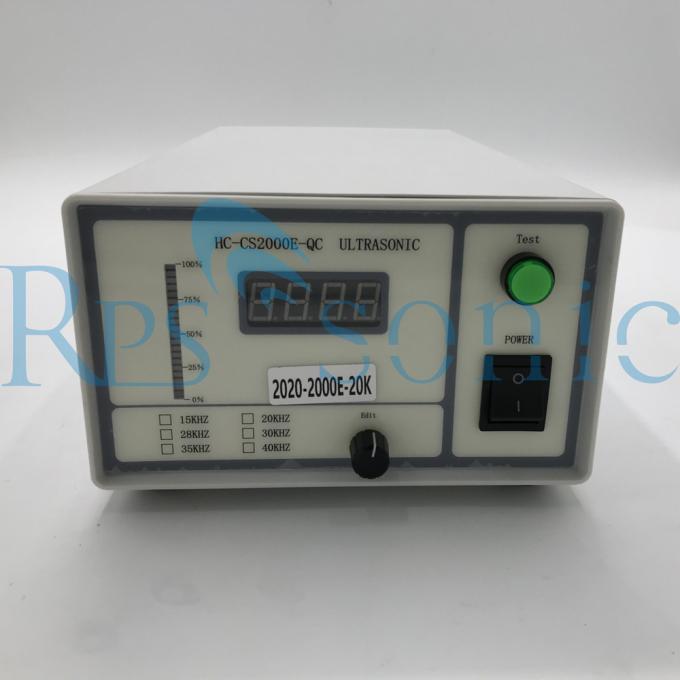 ---
---
Write your message here and send it to us