Rotary Ultrasonic Welding Machine Compact Ultrasonic Seam Welding Machine
Product Detail
FAQ
Product Tags
35Khz ultrasonic rotary welding equipment for ultrasonic seaming
Introduction
35Khz ultrasonic rotary horn are designed for ultrasonic sewing welding.
ltrasonic's can be used for a wide variety of man made fabrics and plastics, with natural fabrics also being able to be used with a minimum content of at least 60% thermoplastic.
Materials used widely for sealing and cutting filter bags with no needle perforation to lightweight lingerie and sportswear fabric joining to Velcro strap joining etc.Although similar in appearance and operation to traditional sewing machines, the SeamMaster High Profile bonder has a higher clearance between the wheel and the horn, making it ideal for hand-guided applications with tight tolerances, or when working around curves.
An ultrasonic sewing machine is versatile and easy to use in order to seam, cut, slit, trim, tack, emboss, or to cut and seal at the same time. The process used by every ultrasonic sewing machine is fast, simple and efficient.
It is indeed a flexible technology. Due to the adaptability of its design, it is possible to mount the sewing machine on a workbench or to install it into semi or fully automated systems.
Parameter:
| | |
| --- | --- |
| Item | Parameter |
| Frequency | 35Khz |
| Power8 | 00W |
| Amplitude of vibration (a) | 15~25 µm |
| Tool material | steel/titanium |
| Welding width | 7mm in max |
Ultrasonic sewing machine applications:
Our ultrasonic welding machine is well adapted for make-up operations on various applications such as: sun protection or any other operations on your technical textiles or nonwovens. Finally, this versatile and autonomous equipment will enable you to perform various sealing patterns.*Ultrasonic technology can be used only on synthetic textiles (with a minimum of synthetic fibers), thermoplastics or any thermo-fusible product. To be sure, don't hesitate to contact us for ultrasonic cutting or welding trials.
Advantages
Using an ultrasonic sewing machine brings forth a series of advantages:
Fast and cost-effective weaving;

Resilient seams;

No need for consumables such as tape, clips or glue;

Constant results;

No cooling times and reduced maintenance costs;

No shooting time for the stapler tool;

Edging in one operation

No need for needles, thread, spools and any activities related to color matching, inventories, winding and trimming;

Evironmentally-friendly because it does not need any adhesives and solvents;

Edges get sealed without leaving any stitch holes, thus preventing penetration from chemical agents, bloodborne pathogens and other particles.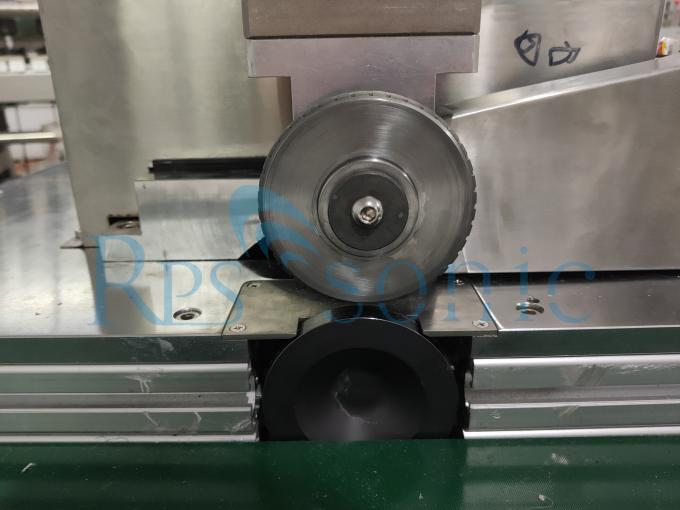 ---
Previous:
2020 China New Design Handheld Ultrasonic Cutter - 35kHz Ultrasonic Integrated Cutting Knife for Cotton/Cashmere Coat Cutting – Powersonic
---
Q1.What kind material of the horn?
A. Titanium alloy, we also customized aluminum hom for customer before.
Q2.What's the time of delivery?
A. For Conventional hom, 3 days, for customized hom 7 work days.
Q3.Does ultrasonic extraction also require the addition of a chemical catalyst?
A. No . but some time need Mechanical stiring.
Q4.Can the device work continously?
A. Yes ,it can work 24hours continously.
Q5.What's the Processing capacity of one set ultrasonic extraction equipment?
A. Different hor different Processing capacity, for 2000W Nine section whip horm can dealing 2L~10Lmin.
Q6.What's the warranty of your sonicator equipment?
A. All equipment one year warranty.
Write your message here and send it to us