Rotary Ultrasonic Machining Tool Ultrasonic Assisted Drilling
Product Detail
FAQ
Product Tags
Rotary Ultrasonic Machining Tool Ultrasonic Assisted Drilling
Description
Frequency:
20khz
Power:
1000W
Amplitude:
15~50um
Gap Overcut:
0.02-0.1
High Light:

ultrasonic assisted drilling

,


ultrasonic milling components
20Khz Rotary ultrasonic machining of ceramic matrix composites
Introduction:
| | |
| --- | --- |
| Item | Parameter |
| Abrasive | Boron carbide, aluminium oxide and silicon carbide |
| Grit size(d0) | 100 – 800 |
| Frequency of vibration (f) | 19 – 25 kHz |
| Amplitude of vibration (a) | 15 – 50 µm |
| Tool material | Soft steel titanium alloy |
| Wear ratio | Tungsten 1.5:1 and glass 100:1 |
| Gap overcut | 0.02-0.1 mm |
Recently, an ultrasonic milling process has become popular.
Ultrasonic millingis an emergingultrasonic machining processingtechnology that can process all kinds of hard and brittle materials. It uses simple shape tools and is based on the idea of ​​layered manufacturing in rapid prototypes. It uses layered removal to process hard and brittle materials. Because the macro force between the workpieces is small, the tool loss can be purchased and compensated, and the machining characteristics of complex three-dimensional contours can be realized.
The ultrasonic generator converts electric energy into ultrasonic frequency electric vibration with a certain power, and converts the ultrasonic vibration into mechanical vibration through a converter. At this time, the amplitude is small, and the amplitude of the tool fixed at the end of the luffing rod is increased to 0.01-0.15 mm by the amplitude expansion rod. Utilize the ultrasonic (16 ~ 25kHz) vibration of the tool end surface to make the suspended particles in the working fluid cut and grind the surface of the workpiece to achieve machining.
This process is suitable for processing a variety of brittle metal materials, such as glass, ceramics, semiconductors, gems, and diamonds. It can process various complex shapes of holes, cavities, and surfaces. The processed surface has no residual stress, no damage layer, high machining accuracy, dimensional accuracy up to the processing process, small stress, small heat influence, and can process thin deformed parts such as thin concrete and thin pieces.Ultrasonic rotary vibration horn are mainly used in precision CNC machine tools and CNC machining centers. For "hard, brittle, sticky" and other special materials and composite materials, drilling (micro-hole, deep-hole), milling, grinding, honing and other processing methods can be performed.
Ultrasonic vibration rotary horn
Ultrasonic rotary vibrating horn holder has the advantages of high speed, no carbon brush, no bearing, maintenance-free, and uninterrupted operation. It has the characteristics of automatically tracking the ultrasonic frequency and keeping the horn at the best resonance point. The ultrasonic rotating vibration horn holder is connected to the main shaft and cooperates with an ultrasonic energy sounder to realize energy conversion through (sound, electricity, and machinery). At the same time, the horn rotates, and the horn is compounded with high frequency vibration of 20,000 to 50,000 times per second to The surface of the material is crushed to form micro marks, which can easily remove the residue of the surface of the processed material.
It is an ideal product installed on the spindles of all kinds of ordinary and CNC CNC rotary processing machine tools to reduce the resistance, improve the surface integrity, transform the machine tools, and upgrade the enterprise.
Advantages of ultrasonic rotary vibration processing
★ Simple installation
★ Improve the surface integrity of processed materials
★ Extend tool life
★ Realize cold milling
★ Reduce milling resistance during tool processing
★ Reduce the residual stress on the surface of processed materials
★ High-speed machine tool processing can be realized when low-speed machine tools are used
★ Improve processing efficiency
★ JT, BT, HSK, straight handle and other specifications can be customized according to the user's machine tool spindle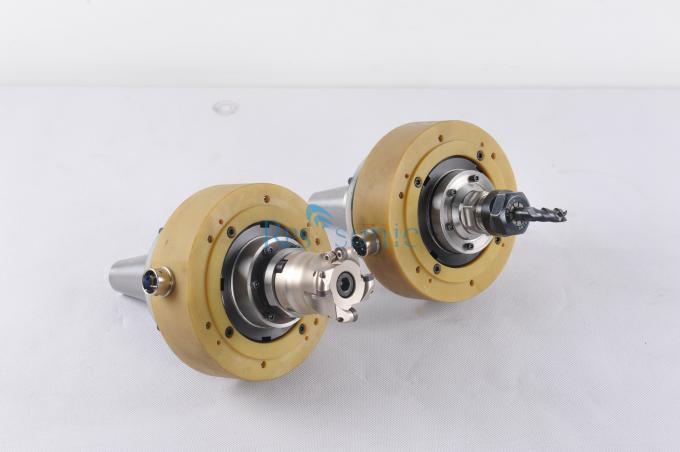 ---
Next:
---
Write your message here and send it to us