20L/Min 20khz mechanical and ultrasonic (sonication) homogenizing system
Product Detail
FAQ
Product Tags
20L/Min 20khz  mechanical and ultrasonic (sonication) homogenizing system
Description
Frequency:
20kHz
Generator:
Digital Generator
Horn:
Titanium Alloy
Capacity:
20 L/Min
Speed:
<50L/HOUR
High Light:

20khz ultrasonic liquid processor

,

,
20L/Min 20khz  mechanical and ultrasonic (sonication) homogenizing system
Description:
RPS-Sonics manufactures the most technologically advanced and reliable ultrasonic processors in the industry for applications such as: dispersion of nanoparticles, nanotubes and Graphene; cell lysing and cell disruption; sample prep; ChIP assay; homogenization; extraction; atomization; and more.
A critical component of any sample preparation is making the sample homogeneous. However, when working with a large number of samples, this is often a time-consuming and labor-intensive task. The act becomes even more tedious and cumbersome when one needs to break down a large, tough solid to a submicron level, since this requires multiple pieces of homogenizing equipment.
Solution: Dual Processing System simplifies sample prep by combining mechanical and ultrasonic (sonication) homogenizing methods into an automated, closed, compact and timesaving unit. Its unique design allows the use of each homogenizing method dependently or independently of each other within a programmable or manual mode. The automation of this system allows for repeat processing and consistent results, which frees up a large amount of valuable lab time.
Dual Processing System has three homogenizing configurations: automated mechanical homogenizing, automated ultrasonic/ sonication homogenizing, and dual homogenizing. Dual homogenizing mode leads to the most effective processing by merging the advantages of both mechanical and ultrasonic (sonication) homogenizing to create a faster and more efficient sample breakdown with minimal or no heat introduced. In this mode, samples are first homogenized mechanically and then homogenized ultrasonically. Mechanical homogenizing can break down a solid sample faster than ultrasonic (sonication) homogenizing, but it takes a longer time to reach the smallest of breakdown levels. The downside of ultrasonic (sonication) homogenizing alone is that it cannot break down large solids, rather samples must already be substantially physically broken down and then material can be reduced to a submicron level quickly. By combining mechanical homogenizing for the initial breakdown and following up with ultrasonic homogenizing, the Dual Processing System cuts down on the processing time of using either method independently.
However, if one's specific sample preparation would not benefit from dual processing, but rather mechanical homogenizing or ultrasonic (sonication) homogenizing alone, then those methods can be used independently in an automated setup. By automating this process and setting a program for speed and time that can be stored on the Dual Processing System , users will achieve more consistent results compared to traditional non-automated homogenizing methods. There is zero operator variability.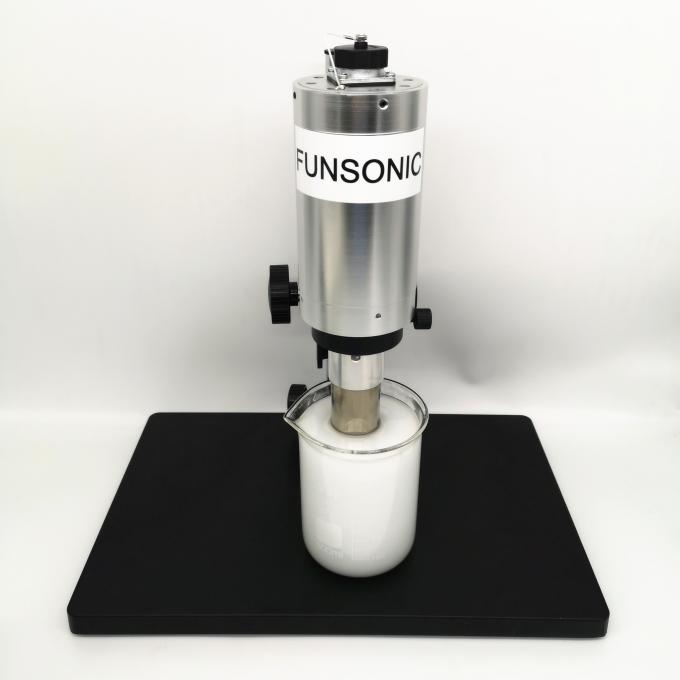 ---
Next:
---
Write your message here and send it to us